Bandai | S.H. Figuarts | Kamen Rider X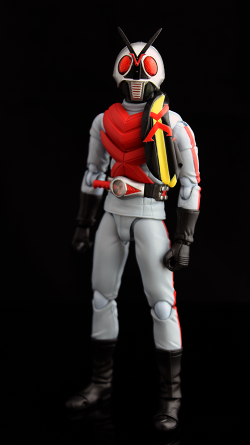 When a franchise has a very strong character, it's hard to top it off with the next version. For better or for worse, Kamen Rider X had to carry to torch from fan favorite Kamen Rider V3. The series had some good things, but ultimately felt weaker compared to his predecessor and actually had cameos by both V3 and Rider 2 most likely to help boost ratings. The first half of the series struggled and when Apollo Geist came around things got better.
Historically, when I would buy Kamen Rider figures, I would only get the first three. Rider X wasn't really a character I had to have but I figured since I liked the Figuarts figures a lot, I'd get Rider X, and subsequently the rest of the Showa Riders.
X deviates a little from his seniors. Unlike being reconstructed by an evil organization, X was turned into a cyborg by his father. It also required him to use some technology to transform in the beginning until V3 made some modifications to him. He's also the first Kamen Rider to readily use a weapon called a Ridol. Rider 1 would use the sword occasionally, but X's Ridol was a staple of his attacks and was multi-functional being able to be turned into a whip, a sword, a staff, and a polearm. What's also interesting is that Rider X is extremely powerful underwater which wasn't really touched on too much. He could even ride his motorcycle into the ocean.
The figure looks just like his real life counterpart with the right colors and all. I still love the eyes that they've used thus far and overall he's just great. He's definitely different from the others in terms of looks. When I was a kid, it was a little hard for me to understand how he was a Kamen Rider when he didn't quite look like the others, and the fact the show was never shown on TV here in Hawaii. It wasn't until I lived in Japan in 2004-2005 did I actually watch the series in full.
It should be no surprise the paint work is fantastic as usual. No slop at all and very clean lines. All the colors look right and are vibrant enough to give the figure life. He's a nice blue which really makes him stand out compared to the darker colors of his predecessors. Very well done.
Rider X has the same kind of articulation as Riderman, which means it's awesome. He has the bicep cut that Riders 1, 2 and V3 don't have. The rest is the same as the others. It's just very poseable and quite functional. Even the chest articulation is hidden quite well in the armor. Par for the course, which in the Figuarts world, is actually perfect.
He comes packed with the Ridol assortment of a long and a short rope, the sword version, the polearm and the staff, and the Ridol handle. He also comes with the usual assortment of hands and a different scarf piece. It's rock solid. It would be even better if he came with the Redizer and the Perfecter, the components that allowed him to transform, but I'm not bothered one bit that they weren't included.
The figure is about as sturdy as the others and can stand quite well on his own. The area of concern, like those before him, would be the antenna on his head, but they're a little stronger than the others. However, if it were to bend, it would leave a mighty awful stress mark since the antenna are black. The rest is the same so you know you're getting a good quality figure made of good plastic.
I believe this is as good as it gets for a figure. It's not my favorite figure but from a objective view, this figure is top notch as a toy.
MODS & CUSTOMS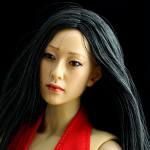 When you think girl K-pop group the first is usually Girls' Generation, but there are some other...
Read More →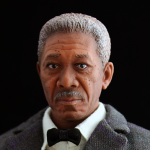 Behind every great here is a great... tech provider. At least in the case of Batman. Bruce Wayne...
Read More →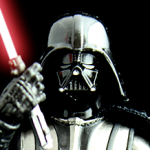 Hasbro recently released the Star Wars Black Series Darth Vader from Episode 3. It's a really nice...
Read More →
PROOF OF PURCHASE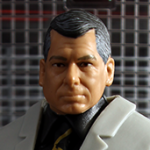 When you think about professional wrestling, common names that come to mind are Hulk Hogan, Ric...
Read More →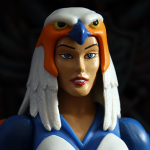 Sometimes a toy company can destroy a really great character, and Mattel seems to do that more...
Read More →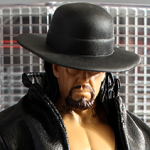 There are very few wrestlers that I can think of that change versions of their character and...
Read More →