Custom: Girls' Generation | Yoona [윤아]
– FIGURE IS NOT FOR SALE –
My second custom Girls' Generation figure was actually my first. It was because I found Yoona's portrait on eBay that I started to realize I could eventually make most, if not all the members. I remember one night scouring eBay for female heads because I wanted to create other characters for my Batman stories. Suddenly I spotted her head sculpt and began in earnest to find more.
I eventually purchased the heads for Taeyeon, Yoona and Seohyun for my first batch. I also bought the first generation bodies from Kumik, but they weren't that great, so for a year or so these heads remained without a body or outfits. I sometimes can't believe how much time went into getting all the pieces – 9 heads, 9 bodies, and 9 outfits is both costly and time consuming. It seems like it was just yesterday, but it's been years.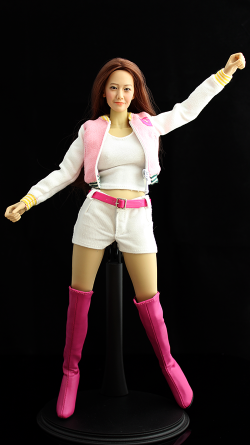 Yoona is one of my favorites, although it's not like I dislike any of them. I think her demeanor can sometimes be misunderstood, but I think she's cool and interesting. She is of course the member that represents Girls' Generation's image and is often at the center of pictures. She's a great actress but her dancing and singing skills shouldn't be underestimated. She is just a lot of fun to watch.
Head:
As stated, this is another Kumik head that's a pretty dead-on likeness to Yoona. She looks like she's about ready to burst out into one of her wide-mouth laughing episodes. You have to use a nice hair scalp piece though or she can look a bit strange. Kumik seems to have changed the material they use for hair, so the one I have on Yoona is more current than the actual head and falls much nicer than the older hair pieces.
Body:
Like my Seohyun figure, Yoona also sports the same body from Play Toy. I'm hoping the version 2 body will be better but until then, these are just fine. I don't use the Kumik bodies because they are lacking quite a bit compared to a lot of the bodies on the market. I also don't care for the body that comes with the deluxe set for the girls that Kumik recently started offering.
Outfit:
It's the same baseball outfit from Super Duck which cannot be found anywhere. I'd love to use something more current, but these are just fine.
MODS & CUSTOMS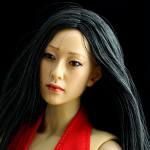 When you think girl K-pop group the first is usually Girls' Generation, but there are some other...
Read More →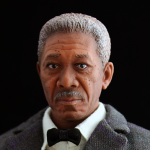 Behind every great here is a great... tech provider. At least in the case of Batman. Bruce Wayne...
Read More →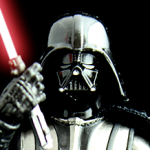 Hasbro recently released the Star Wars Black Series Darth Vader from Episode 3. It's a really nice...
Read More →
PROOF OF PURCHASE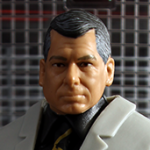 When you think about professional wrestling, common names that come to mind are Hulk Hogan, Ric...
Read More →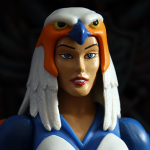 Sometimes a toy company can destroy a really great character, and Mattel seems to do that more...
Read More →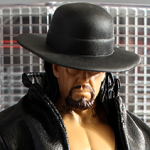 There are very few wrestlers that I can think of that change versions of their character and...
Read More →